UVC and Ion Distribution Disinfection Featured by IAMA as Ways to Combat COVID-19
According to Article on Aviationtoday.com, last week, the Independent Aircraft Modifier Alliance (IAMA) featured online presentations by Dimer LLC and AERO-Health on Ultraviolet-C (UVC) irradiation and ion distribution disinfection methods for aircraft in ensuring that planes are free of COVID-19.
Dimer LLC's GermFalcon system uses UVC lamps of 254 nanometers (nm), the same wavelength used in hospitals, to sanitize aircraft interiors. Dimer LLC said that no industry standards exist for such sanitizing and that cleaning methods and frequencies vary because of short turnaround times for aircraft and the inefficiency of chemical cleaning products. While disinfection with chemicals requires several minutes of "wet time" to be effective, followed by a water rinse on food-serving and preparation surfaces, such products may lack the capability to kill a range of germs and are toxic and not environmentally friendly, according to the company.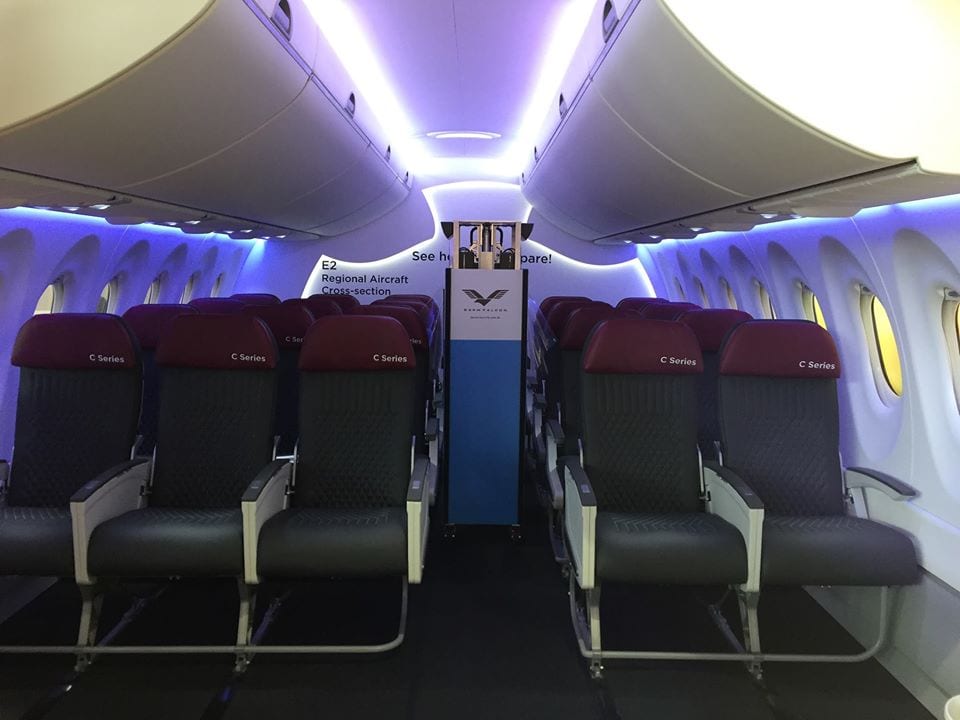 Further, while chemical disinfectants need a minute to sanitize one seat, GermFalcon can treat 54 seats in that time, and, while multi-step chemical disinfectants can take more than two hours to sanitize the surfaces of a narrow-body jet, the GermFalcon is able to sanitize the area in less than 10 minutes, Dimer LLC said.
As a result, the company said that time, labor, and product costs are reduced in UVC disinfection.
The company also said that UVC has the potential to disinfect avionics, as it does not harm avionics systems.
"GermFalcon is not expected to have any impact on functions of avionics," Elliott Kreitenberg, the co-founder and president of Dimer LLC, wrote in an email to Avionics International. "UVC is commonly used to disinfect controls and electronics in healthcare. GermFalcon could work well for the flight deck, although pilots generally prefer cleaning personnel to remain outside the cockpit."
New Centers for Disease Control and healthcare study data indicate UVC's effectiveness against COVID-19, but the minimum dosage requirements are uncertain. Yet, Dimer LLC has said that it can deliver whatever dosage is required to kill COVID-19 and be on and off a narrow-body jet in less than five minutes.
"MERS and SARS, members of the coronavirus family, have proven to have very low tolerances to UVC irradiation," Kreitenberg wrote in his email. "GermFalcon, along with Dimer's other products, are capable of delivering those dosages and recommend a reduced operating speed (10 rows per minute) to deliver three times the dosage required to kill coronaviruses of the past."
Kreitenberg declined to disclose the names of airlines that have purchased its GermFalcon and UVHammer disinfection systems, but said that U.S. airports will roll out such systems this summer and there could be thousands of systems to be in service globally before flu season begins this fall. GermFalcon is for use on aircraft interiors, while UVHammer could be used to disinfect bathrooms and other sites at airports.
For its part, Aviation Engineering Resource Organization (AERO)-Health has said that portable and fixed ion distribution systems by Georgia-based Aviation Clean Air (ACA) and California-based International Aero Engineering (IAE) can disinfect plane interiors in an hour during ground maintenance.
Dan Hitchcock, a managing partner at Iowa-based AERO, said that the portable ion distribution unit can produce more than 2 million disinfecting ions and can be used on multiple aircraft. The ACA and IAE portable and fixed systems are in use on multiple aircraft, including Leonardo helicopters, the Gulfstream V, the Airbus A330-200, and the Airbus A319 and A320 Neo. Upcoming installations include the Boeing 787, Boeing 737-800 and 737 MAX, he said.
The ACA/IAE ion distribution units create positive and negative ions, which "are scientifically proven to kill pathogens such as bacteria, viruses, and mold spores at an exponential rate," Hitchcock said.